What could be better then spending a freezing Sunday in Lambeau field with some of your very best friends?? Hmm...I can't think of anything!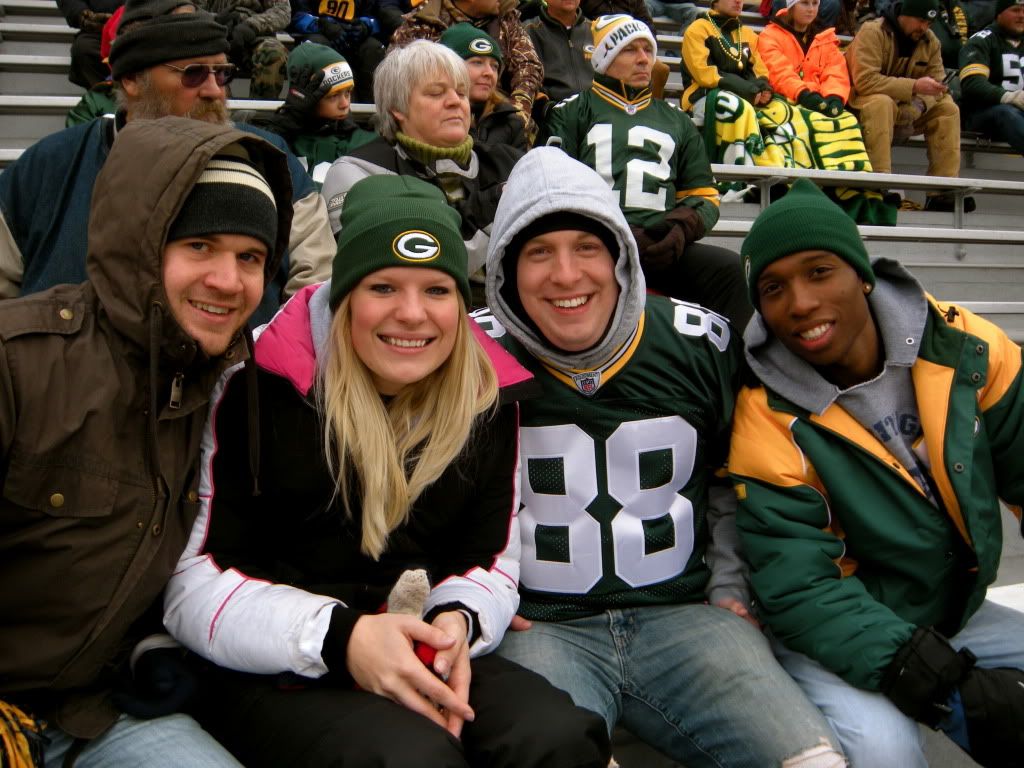 Jason, Me, Adam and Oby. This time of year I don't mind that the seats are so small at Lambeau; sharing body heat is a must!



Last Sunday Jason and I, along with two of our very good friends Adam and Oby got to cheer the Packers on to a victory over the 49ers! It was a blustery winter day, which happens to be some of my favorite weather to watch a Packer game in. I happen to be an extreme fan when it comes to the Packers. I feel the pain when Rodgers gets sacked, call plays with McCarthy and jump across the couch onto Jason in my own form of a Lambeau leap. If the Packers can play in December then I can certainly sit my butt on an ice cold bench and cheer them on!

Football is definitely something that Jason and I share. And although we cheer for opposite teams we are both just as passionate. It's actually one of my favorite things about our marriage, though I won't lie, it gets a little tense during Packer/Bears games.
Please forgive the horrible quality of the next two pictures. I've tried to edit them to look better but the bottom line is my camera was having issues that night.
This weekend was Jason's work party down in Chicago. It's a party not only for his clinic but for ALL the Athletico clinics so it is a huge party. We had a great time not only with each other but also his co-workers. We had some amazing ice cream sundays and I'm pretty sure Jason invented a few new dance moves that night.
In the lobby at the Palmer House.


Since the party was in Chicago and was over a 90 minute drive for us we decided to make it an overnight trip and got a hotel on priceline. We definitely scored a deal and got a room at the Palmer House (a 4 star hotel, mind you!) for less then half of what they charge!! We enjoyed it sooo much. The lobby was absolutely stunning and after the party we got cozy with the Nutcracker in front of one of many Christmas trees. It was definitely nice to get away and spend time with Jason. This month is the busiest and most stressful of our marriage yet with the holidays, Jason in 3 classes and finishing school on top of an already busy life. I definitely loved getting to spend time with my best friend and feeling charged up for the weeks to come.

This week is Jason's birthday!! I've got a few surprises up my sleeve for him and some special plans for him. I can NOT wait to celebrate him...he deserves it!!